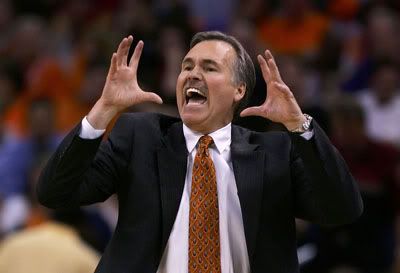 Mike D'antoni, Phoenix Suns:
Has accomplished nothing with one of the best teams in the NBA. He isn't even much of a coach, and now that Phoenix has adopted a new style of play - he is expendable.
Likely Scenario
: D'antoni out - Jeff Van Gundy in. Now that the Suns have decided to play halfcourt basketball they need a half court coach. They also need defense more than anything, and Van Gundy will provide that.
Avery Johnson, Dallas Mavericks
: It seems like just yesterday that Avery Johnson had won his Coach of the Year award and his team was 2 games away from the NBA title. Since then, they have gone 3-12 in the playoffs and have been knocked out for the 2nd straight time in the 1st round of the playoffs.
Likely Scenario:
Avery Johnson will be fired and a new style of play will be adopted. There will also be roster changes over the off-season.
Flip Saunders, Detroit Pistons
: The Pistons have not accomplished anything since their 2004 Championship. They lost to an inferior Heat team, then lost to an inferior Cavs team, and now they are tied 2-2 with the Philadelphia led 76ers.
I exposed Flip in last year's playoffs after Lebron's monstrous game 5 performance.
Likely Scenario
: In all honesty, I don't know what will happen. It really depends on the Piston's performance. I was certain that Dumars would fire Saunders after last years playoffs, but he didn't.
George Karl, Denver Nugget
s: Has been the coach of a team that has lost in the 1st round of the playoffs 5 years in a row. His team doesn't play defense, and they play uninspired basketball. A lot of it has to do with their cancerous personnel, but without defense the Nuggets are going nowhere.
Likely Scenario:
Goerge Karl will either remain the head coach or he will resign before he gets fired. The Nuggets will also see roster changes and player movement in the summer.
KB42PAH Alborz